GREEG VALENTINO
Worlds Biggest biceps
Markus Rhull
worlds biggest shoulders
RONNIE COLEMAN
EIGHT STRAIGHT WINS AS MR. OLYMPIA
Ronald Dean "Ronnie" Coleman (born May 13, 1964 in Bastrop, Louisiana) is an American professional bodybuilder who holds the record of eight straight wins as Mr. Olympia, a record career total that he shares with Lee Haney.
Download Free E Book
8 Things you must do to build maximum muscle
50 Keys To A BiggerRaw Bench
Alongside his eight Mr. Olympia wins as a professional bodybuilder, Coleman holds the record for most wins as an IFBB professional with 26 wins. He broke the previous record (held by Vince Taylor at 22 wins) in Moscow on November 5, 2004.
Coleman graduated from Grambling State University (GSU) in 1986 with a degree in accounting[citation needed]. While attending Coleman also played football with the GSU Tigers under famous coach Eddie Robinson. After graduation, Coleman became a police officer.
See Also:
Extreme bodybuilders turn into ugly muscled balloons
Coleman supports the Inner City Games, an organization that California Governor Arnold Schwarzenegger co-founded in 1991. He was the recipient of the 2001 Admiral in the Texas Navy Certificate Award from Texas Governor Rick Perry for outstanding achievements in bodybuilding and for the promotion of physical fitness.
On June 30, 2009 on MuscleSport Radio, Coleman stated that he would compete in the 2010 Mr. Olympia competition.[citation needed] Coleman also indicated that he would not participate in the 2009 Mr. Olympia competition for lack of preparation time. On October 10, 2009 at the Northern Territory Fitness & Bodybuilding Titles in Darwin, Australia, Coleman confirmed that he would compete in the 2010 Mr. Olympia competition
ARNOLD SCHWARZENEGGER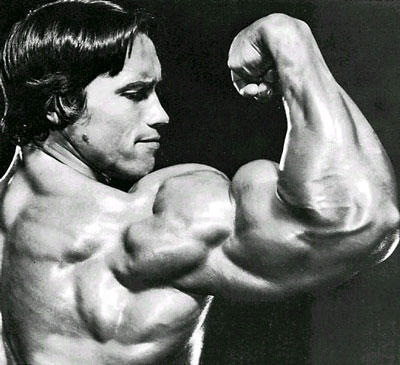 Youngest Mr Universe at age 20, then won Mr Olympia at seven times
LOU FERIGGNO
THE INCREDIBLE HULK
Louis "Lou" Jude Ferrigno (born November 9, 1951) is an American bodybuilder and actor. Ferrigno has appeared in such television series and movies as The Incredible Hulk (playing David Banner's bulky alter ego, the Hulk), the bodybuilding documentary Pumping Iron, European-produced fantasy-adventures including Sinbad of the Seven Seas and Hercules, and most recently in the 2009 comedy I Love You, Man. He is best known for playing the Hulk, but more recently had a recurring role, as himself, in the sitcom The King of Queens.
www.louferrigno.com
JOHNNIE O JACKSON
NOTABLE POWERLIFTER
Jackson first competed in an NPC (National Physique Committee) in 2001, where he won the NPC USA. His first IFBB competition was the GNC Show of Strength (now defunct) of 2002, where he placed 10th. His first IFBB Night of Champions was in 2003, where he placed 5th. Later that same year he competed in the Ironman Pro Invitational, where he placed 9th.
Download Free E Book
Tasty Fat Loss and Muscle Gaining Recipes
In 2003 he competed in his first Mr. Olympia, where he placed 11th. His first Arnold Classic was in 2006, where he placed 13th. Jackson regularly competes in powerlifting events and often incorporates this type of training into his workouts.
He currently lives in Fort Worth, Texas.
I m sure your body can be like them, just
visit this link
your dream will come true....