Howard Stern swapped out his standard SI swimsuit pinup model guests for FOX News' co-anchor of "America Live," Megyn Kelly, on his Tuesday (April 20) show.Megyn Kelly has been on a media blitz this week, appearing in Variety and sitting down for interviews with Howard Stern and the ladies of "The View."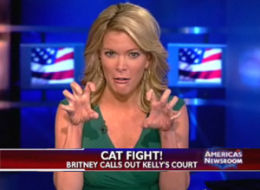 Of course Kelly, part of the FOX News brigade of blonde bombshells, isn't too hard on the eyes. And Stern didn't seem all that interested in testing her brain power.
The Sirius XM radio host had Kelly play the game "Marry, F, Kill," using Sean Hannity, Glenn Beck and Bill O'Reilly as her choices. She went with having relations with O'Reilly (ick!), marrying Hannity and killing Beck (and with that, James Cameron just became a Kelly fan).Megyn Kelly's order was in the same presented above. It was a strange arrangement of names she was given – they should have at least thrown an Owen Wilson or Brad Pitt into the mix…on the other hand those three are the three biggest names on her network so in essence it does make sense.
Though she might have been jittery at first the game seemed to loosen her up a bit and she performed like the star she is.
look , ..... Nice girl.