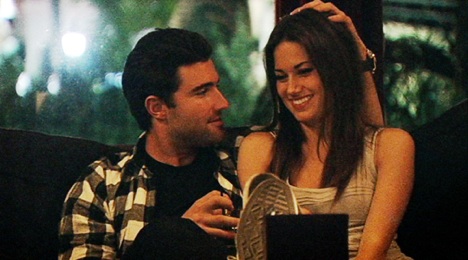 On tonight's episode of The HIlls...with the dramatic and crazy Pratts finally out of the their lives,everyone is in the mood for something or someone new. And Brody and Stephanie find it in their new flings.

Brody and Kristin, newly friends with benefits, go out for a drink. But since they're not anywhere near exclusive, Brody asks Kristin about the other guys she's dating. Kristin isn't dating anyone. However, Brody is seeing a new girl, which makes Kristin feel like she should go out and date too.

Lo and Stephanie go out for lunch. Stephanie feels that she is finally in a place in her life where she is ready for a guy. She is sober and she's let go of Spencer and Heidi and their baggage. Lo has someone she wants to introduce to her to, Max. Stephanie is worried that he might think it's weird that she doesn't drink, but Lo assures her that if he thinks its weird he's not the guy she wants to be with anyway. So she and Mark and Scott and Lo are going to go on a double date.

Stephanie and Audrina talk about her double date coming up. They are going to go out for drinks and Stephanie is nervous because she will have to tell him why she isn't drinking and about her family and things. Stephanie is afraid that she's scare him away will all of her baggage. Audrina tells her to try and keep things light on their first date and tell only what she has to.

Kristin and Audrina hang out. Audrina tells her how good it feels to be in an exclusive relationship with Ryan. She likes knowing that he's not out there dating someone else. Kristin likes being single, but is still hooking up with Brody. Audrina warns Kristin to be careful because Brody is out there playing the field. Their chemistry is very stron, and Kristin wants to make sure that she doesn't get attached. Kristin calls Brody and Brody is out on a date with someone new and doesn't pick up. Kristin doesn't know why he hasn't answered all day and thinks it's very strange.

Brody's mysterious new fling is a fresh face in LA, a girl named Micaela. They are really hitting it off and flirt the way Bordy and Kristin often do. So much for wanting to stay single. Even though she is a nice girl, Brody is nervous to bring Micaela around the other girls because they probably won't treat her well.

The whole gang goes out and everyone gets the chance to meet Micaela. Lo and Stephanie are surprised to se him with another girl especially since he and Kristin have a thing. Kristin shows up and is kind of upset to see that he brought Micaela and doesn't even give him a hug. But Kristin is glad she found out now before she could really develop strong feelings for him again. But she already has feelings for him, so she is hurt.

Brody is all over Micaela.. He is holding her hand and rubbing her back, running his fingers through her hair. And Kristin and the rest of the girls are pretty sickened. Brody and Micaela leave because Lo, Stephanie, Kristin and Audrina seclude themselves and don't include Micaela. Brody yells at Kristin for being so rude, and Kristin defends herself explaining that she didn't do anything wrong.

Stephanie gets ready for her big double date. When Stephanie meets him she is so mesmerized by his dashing looks that she ignores Scott when he asks her a question. Max is a professional lacrosse player and the model/spokesperson for Scott's athletic apparel company. Stephanie and Max like each other and Max asks Stephanie out again and Stephanie is all for it.

Kristin goes to Brody's condo to talk him. Kristin is mad at him because she was being very rude by flaunting Micaela in front of her like that. Brody feels like he is allowed to like whoever he wants and he likes both Micaela and Kristin. But Kristin doesn't think its fair to keep her hanging like that. Brody is confused because in his mind they are just friends. Brody thought they had a certain understanding, but Kristin thought it was still disrespectful to flaunt someone new in front of her. But Brody just doesn't understand her point of view. Kristin gets so frustrated that she storms out.
See Also :
The Hills Season 6 Episode 5 The Next Minute