Lorenzen wright found dead
Almost a week since he was reported as missing by his mother, former NBA player Lorenzen Wright was found dead according to Eyewitness New sources in Memphis.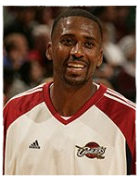 The body was found in the wooded area of Hacks Cross and Winchester Road, Wednesday, July 28, 2010. It appears, sources say he had been shot and it may be self inflected.Germantown police say a 911 call has been turned over to Memphis police in connection to this investigation.
On July 22 his mother reported Lorenzen Wright as missing to Collierville police, but that story conflicted with the one his father had that Wright was on vacation in Europe.
In 1996 Wright was drafted 7th overall by the LA Clippers and went on to play for the Atlanta Hawks, Memphis Grizzlies, Sacramento Kings and Cleveland Cavaliers during the 2008-2009 season.