Moammar Gadhafi: Dead!
Notorious Libyan dictator Moammar Gadhafi, the most wanted man in the entire world, has been killed, the country's rebel government and ABC News claim.
The tyrant who terrorized the North African nation and much of the world during his 42 years of rule was cornered by insurgents in the town of Sirte, Libya.
Moammar Gadhafi was born and maintained a stronghold of his supporters there, but word that he is dead sparked celebrations in most of the country.
The White House and NATO have yet to confirm reports of Gadhafi's death.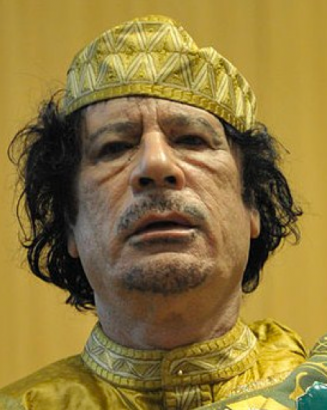 The National Transition Council said Moammar Gadhafi is dead following a battle in Sirte, which finally fell to the rebels today after weeks of tough fighting.
Gadhafi, 69, had been on the run for several weeks after being chased out of the capital Tripoli, the capital of Libya, by NATO bombers and rebel troops.
He had been believed to be hiding in the vast Libyan desert while calling on his supporters to rise up and sweep the rebel "dogs" away, but to no avail.
NATO said its fighters struck a convoy of Gadhafi's loyalists fleeing Sirte, but could not confirm Gadhafi was in the convoy, the Associated Press reported.
Still, many accounts claim that one of the world's most notorious tyrants - if not the most, after Osama bin Laden was killed - has been knocked off.
More details to follow as the story develops ...