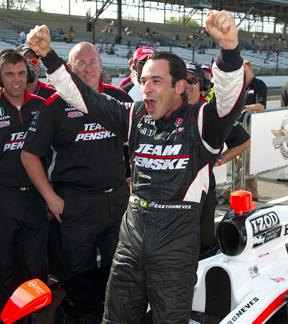 Indy 500 qualifying - Castroneves wins pole; Patrick 23rd out of 24; Kanaan, Sota crash
Indy 500 qualifying - Castroneves wins pole; Patrick 23rd out of 24; Kanaan, Sota crash - In a day of qualifying for next weekend's Indianapolis 500 race, Helio Castroneves of Brazil qualifed for the pole for his fourth time. Danica Patrick took the 23rd of 24 spots.
Mr. Castroneves's 4-lap average, according to ESPN.com, was 227.970 mph, faster than any run in practice. With his fourth pole, the Brazilian ties A. J. Foyt and Rex Mays for second behind Rick Mears, who has won six.
Will Power from Australia will start second, and Dario Franchitti from Scotland will start third.
Other women qualifying besides Ms. Patrick include Ana Beatriz at 21st and Simona de Silvestro at 22nd.
Crashes during qualifying on Saturday included Tony Kanaan of Brazil. Japan's Takuma Sota crashed during a practice run Saturday morning.
This year will mark the 94th running of the auto race, often called "The Greatest Spectacle in Racing." Between the number of seats the speedway holds (over 250,000) and those who stand around the track, some estimates place the number of fans at close to 400,000 who show up on race day. The Speedway, according to the Speedway Hall of Fame Museum website, is the "largest spectator sporting facility in the world."
If you are a young person (or slightly older than young) visiting the Indianapolis area, you might be interested to know that the Speedway Hall of Fame Museum is open during races and beyond and features discounted tickets for those up to age 15. Consult the website for further information.
The Indy 500 will be broadcast live from Indianapolis Motor Speedway in Speedway, Indiana on ABC Sunday, May 30, 2010 starting at noon ET.
See Also :
Danica Patrick hears boos after a tough day of Indy 500 qualifying
Indy 500 Qualifying Round in Indianapolis: Mario Moraes & Tony Kanaan Crash...! [VIDEO]