Boozer's value rises with Bulls
carlos boozer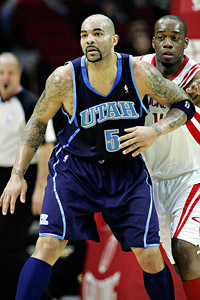 Carlos Boozer should solidify the Bulls' frontcourt, and he still gets to play with a star point guard in Derrick Rose.
For a few years now, it has been extremely clear that the Chicago Bulls, for all their talent, lacked a scorer in the post. Signing Carlos Boozer away from the Utah Jazz for a reported $80 million over five years appears to have remedied that problem, even if the roster as a whole might not be a finished product.
Boozer has a few definable skills in the fantasy game. He generally is good for 20 points per game and has been a double-digit rebounder in each of the past four seasons. Only once in his career has he failed to shoot well over 50 percent from the floor. He has great hands and consistently racks up more than one steal per game. Without question, when healthy, Boozer is a fantastic fantasy player, and that shouldn't change with the Bulls, where his scoring from the power forward position corrects perhaps the biggest flaw in Chicago's roster. Considering the Bulls likely will lose Brad Miller, there will be plenty of minutes for Boozer, too -- more, it seems, than the 34 or so per game he's been playing for the Jazz the past few seasons. If anything, Boozer's stock should be a little higher next season, as long as he's able to remain reasonably healthy.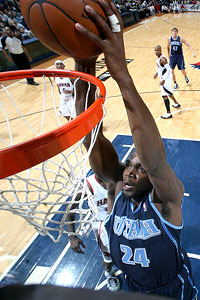 Paul Millsap should slide into Carlos Boozer's spot in Utah and be a major contributor next season.
For the rest of the Bulls, based on what we know as of right now, this has to be seen as a major victory. Boozer's ability to score outside of the paint on jump shots should help open up things for Derrick Rose's superstar-level penetration. I would expect to see Rose have to take fewer bad shots, which should mean more assists (say seven or eight per game instead of six) and a better field goal percentage (up from his already-stellar 49 percent clip last season). Boozer's presence might cost Joakim Noah a rebound or two, but Boozer's ability to score should mesh pretty well with Noah's skills as a passer, and Noah already has proved he's one the league's best rebounders, no matter who is playing alongside him.
I don't see major changes coming statistically for the other Bulls; Boozer's scoring might mean slightly fewer chances for Luol Deng, for example, but the chances Deng does get should be better ones. As any basketball watcher is aware, having a player who can score consistently close to the basket tends to open up things, and Boozer has been a cog in one of the league's most efficient offenses for years now.
That said, Taj Gibson is the Bulls player with the most to lose. After playing nearly 27 minutes per game as a rookie, he'll now be relegated to bench duty, and unless Boozer gets hurt, it's hard to imagine Gibson's playing the same amount of minutes this time around. Gibson is, however, a pretty good shot-blocker, so he deserves to be on your radar as long as he posts 20 or more minutes per contest.
For the Jazz, clearly, this has to be seen as the big chance for Paul Millsap. He already has been an important fantasy player as Boozer's backup; if his minutes get bumped up from 28 to, say, 36 or so, we could be talking about a top-25 player, given his ability to block shots (1.2 per game last season), get steals (0.8 per game last season) and shoot a high percentage (54 percent for last season). I'd be perfectly happy to spend a fourth-round pick on Millsap in most fantasy drafts.
Obviously, losing a player with Boozer's ability on the offensive end and on the glass hurts a team a lot, but with Millsap as a ready-made replacement, it's possible there might not be too much upheaval. One player to look closely at is Andrei Kirilenko. Never a good bet to stay healthy, Kirilenko tends to be extremely productive in fantasy when he's actually playing, and given the current roster situation for the Jazz, Kirilenko will be an important piece going forward. In fantasy drafts, he is a major risk/reward type of player, but he's one of the few guys around with a top-20 ceiling if everything breaks right.
Losing Boozer isn't great for Deron Williams, but Williams has been the best player on the Jazz for a few seasons now, and I'm not too worried about the fantasy potential of a guy who is, at worst, one of the three best point guards in the world.
For the rest of the Jazz, things probably don't change that much. If there are minimal future roster changes, the Jazz will make up for Boozer's scoring among Millsap, Mehmet Okur, Wesley Matthews and C.J. Miles, but for now, none of their overall fantasy profiles should change much, if at all, save Millsap. The Jazz will continue to play the same style as before, and the only major gainer should be the obvious one: Millsap.