Looking Back Over Ringo Starr's Life as He Turns 70
ringo starr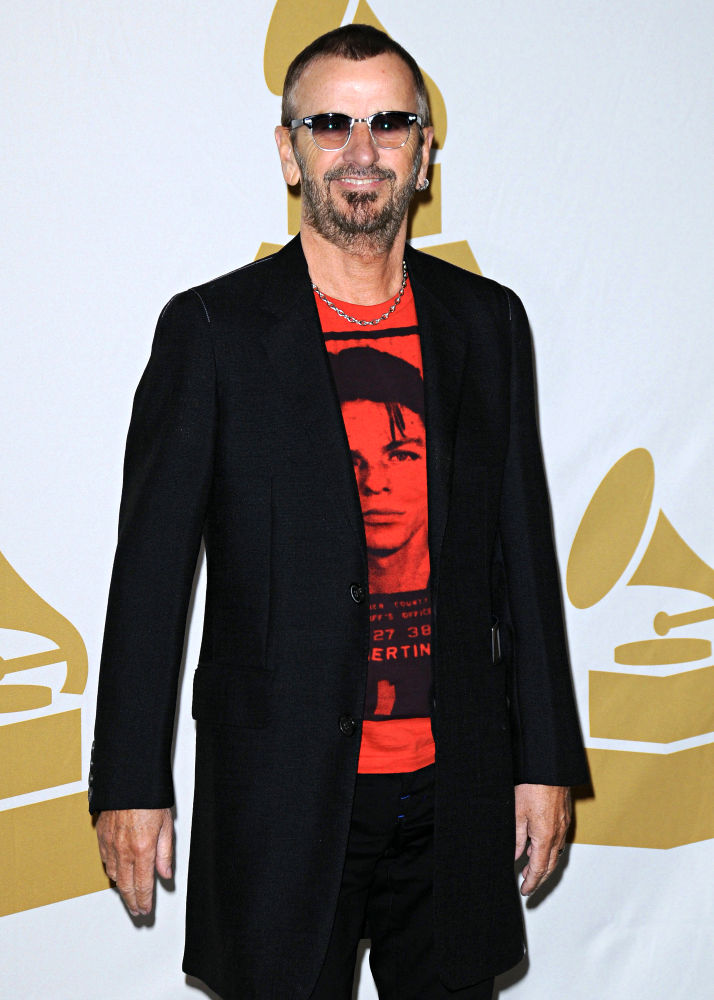 Ringo will celebrate his 70th with a private party at NY's Hard Rock Cafe and he has been asking fans to hold up V signs and chant 'peace and love' at noon on his birthday every year since 2008.
It was 70 years ago - today that Ringo Starr was born. After fighting a series of childhood illnesses, the young Richard Starkey became an in-demand drummer in his native Liverpool and he replaced Pete Best in the group that was to become the most famous band in the world, The Beatles.
Now, as Starr turns 70, we thought we'd take a look back over his life and dig up some of the facts you might not know about the old rocker. Happy Birthday Ringo!
Ringo will celebrate his 70th with a private party at New York's Hard Rock Cafe and then perform with his All Starr Band at Radio City Music Hall in the evening.
Ringo has been asking fans to hold up V signs and chant 'peace and love' at noon on his birthday every year since 2008.
Ringo wasn't a fan of India when The Beatles went there to study meditation in 1968. He didn't like the food and returned to the U.K. after just 10 days, telling friends the experience was just like British holiday camp Butlins.
Ringo came up with the title for the first The Beatles movie, "A Hard Day's Night", after a lengthy recording session. Filmmaker Walter Shenson jumped on the phrase as the title for the movie and commissioned John Lennon and Paul McCartney to write a song matching the title, according to leading Beatles historian Martin Lewis.
John Lennon once joked that Ringo "isn't even the best drummer in the Beatles!" but his three bandmates all used him to play drums on their solo albums.
Ringo never fell out with any of his bandmates. While they were feuding with each other, Starr remained neutral and kept in touch with each of them.
Ringo is left-handed but plays a right-handed drum kit.
Ringo wrote novelty tune "Octopus' Garden" while holidaying with Peter Sellers on the funnyman's yacht. Starr had walked out on The Beatles, disgusted with the band's tensions and bored with waiting around to contribute to the "White Album".
Ringo is the only Beatle to have failed to top the U.K. singles and album chart as a solo artist. He has had two number one tunes in the U.S.
In 1971, Ringo started a furniture company with designer Robin Cruikshank. Starr's contributions included a doughnut-shaped fireplace.
In 1975, Ringo founded his own record label, Ring O'Records.
Ringo was inducted into the Percussive Hall of Fame in 2002, alongside Ella Fitzgerald's drummer Ed Thigpen, who died earlier this year.
Ringo was the voice of kids show "Thomas the Tank Engine" in the U.K. in the mid-1980s on the ITV Network in the U.K. He was also the original little conductor on "Shining Time Station" in the U.S.
Ringo shares his birthday with designer Pierre Cardin.
Ringo is the oldest Beatle. He is three months older than John Lennon.
At 15, Ringo could barely read or write because he had spent so much time in hospital as a child - he fell into a two-month coma after complications from appendicitis at the age of six and he developed pleurisy when he was 13.
Ringo made an animated appearance as himself on "The Simpsons" episode "Brush with Greatness".
Ringo was appointed a Member of the Order of the British Empire (MBE) in 1965, alongside his Beatles bandmates. He also shared the Academy Award for Best Original Song for "Let It Be". Each Beatle received an Oscar statuette.
The minor planet 4150 Starr, discovered on 31 August 1984 by Brian A. Skiff at the Anderson Mesa Station of the Lowell Observatory, was named in Ringo's honor.
On February 8, 2010, Ringo was honored with the 2,401st star on the Hollywood Walk of Fame.